Retro refrigerator - colourful and nostalgic
Available in numerous colours, the free-standing SIBIR Oldtimer refrigerators are sure to add a nostalgic highlight to your kitchen. They can be integrated anywhere as an elegant design piece. Perhaps in your rural kitchen. Or in your trendy urban apartment. Or even in your extravagant loft. Besides the unique look, each model offers incredible capacity as well as all the functions you would expect. Whichever colour you choose – you can be sure that these modern icons will be a real eye-catcher with their retro aesthetics.
The SIBIR Retro Collection includes three appliance variants corresponding to energy efficiency classes D+E. Extravagance coupled with innovative technology and high energy efficiency. The retro classics have been part of the core range of SIBIRGroup AG for many years. Especially popular so far is the single-doored retro refrigerator Oldtimer OT 26010 or the OT 274 with its trendy chrome handle.
For instance, the traditional, single-doored bestseller SIBIR Oldtimer OT 26010 / OT 274 with 4* freezer compartment is equipped with an automatic defrost function in the refrigerator compartment, a DynamicCooling system, IonAir system, three glass shelves as well as spacious multi-purpose containers.
The trendy model is available in the colours: Bordeaux, Fire Red, Champagne, Black and Aqua Blue.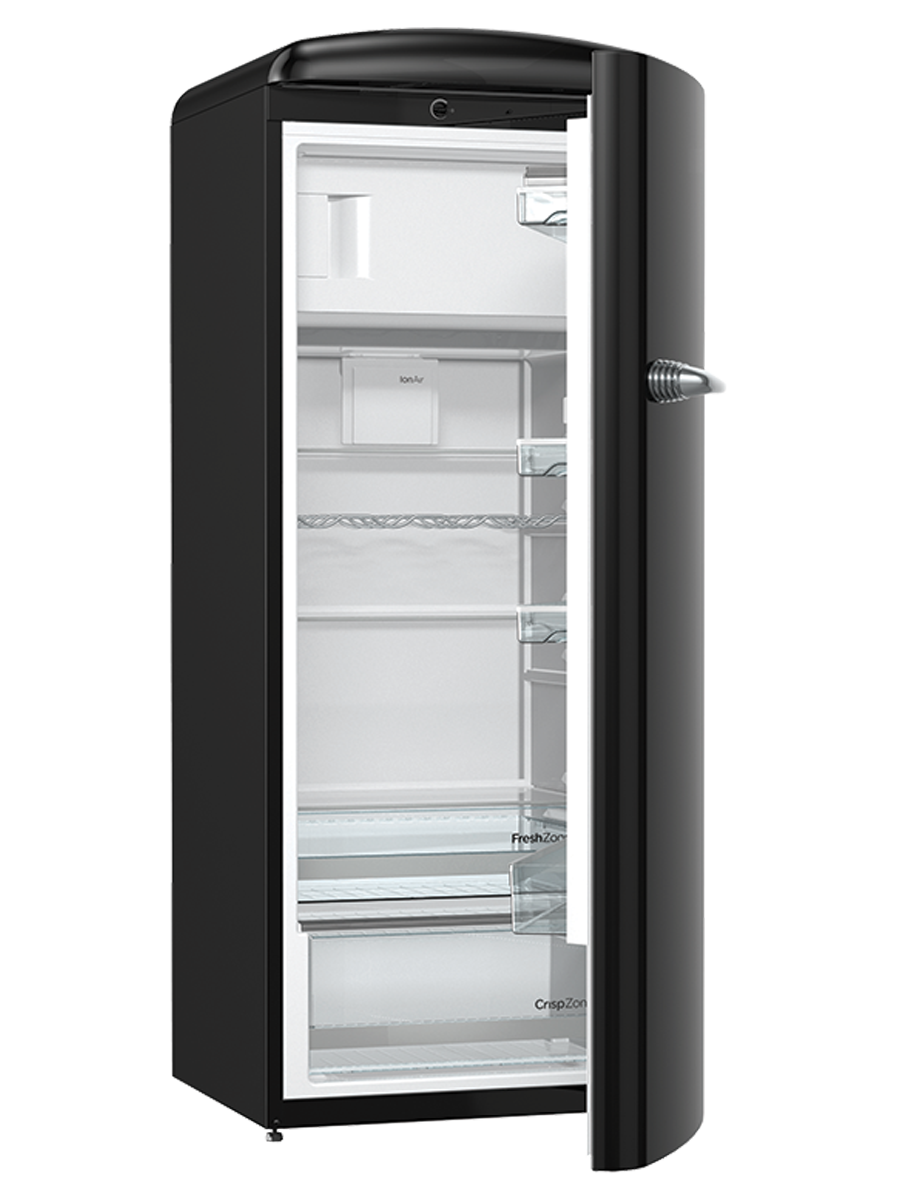 Combined refrigerator-freezers
SIBIR Oldtimer OT 33010 or the OT 324 with a height of 194 cm makes an elegant impression in the exclusive colours Black, Bordeaux, Champagne and Fire Red. As an appliance variant, model OTN 32010 or OTN 324 is available in the colours Bordeaux and Champagne and features the automatic defrost function NoFrost Plus in the freezer compartment and an acoustic warning signal when the refrigerator door is opened too long or when temperatures increase in the freezer compartment.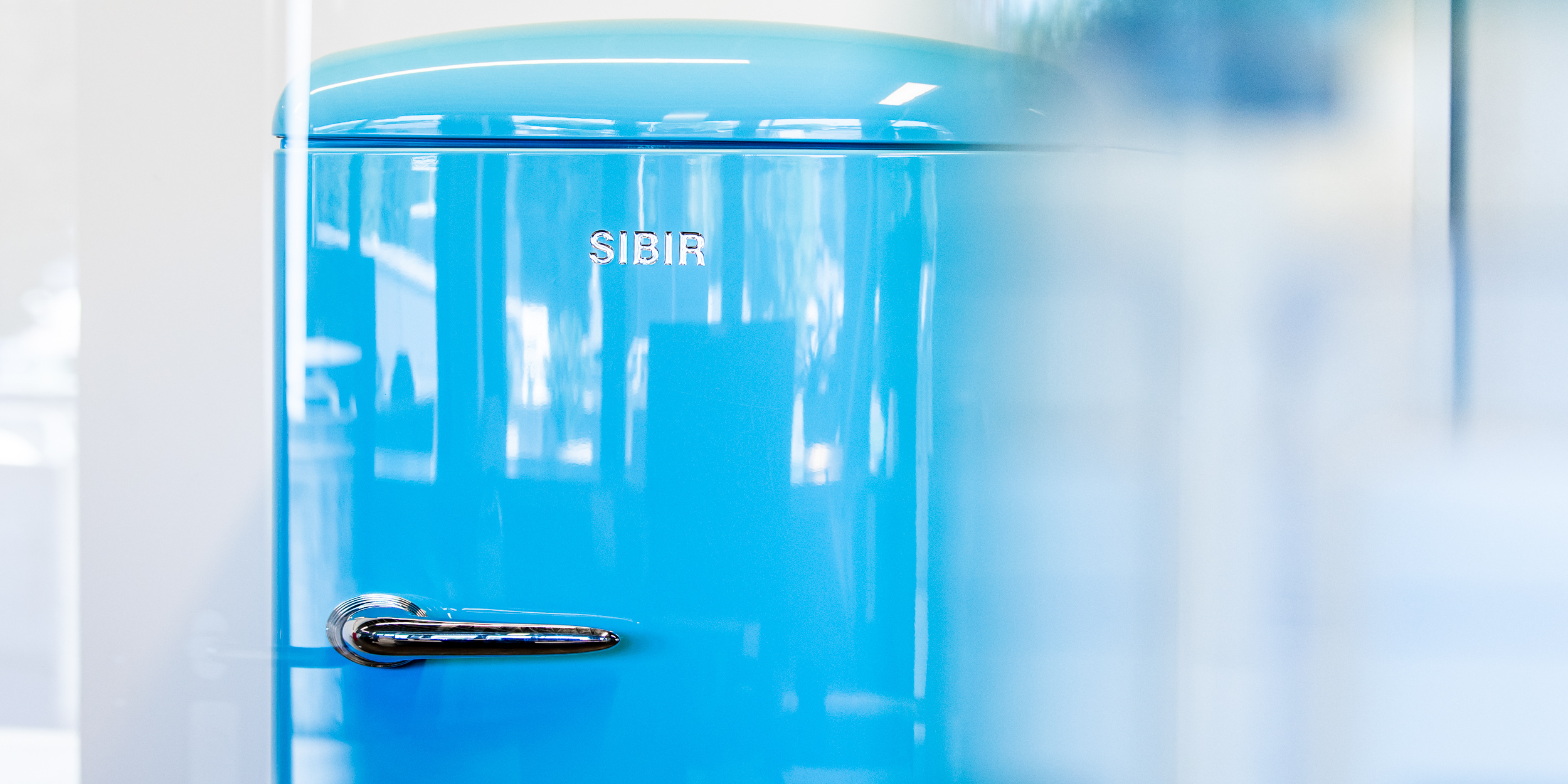 Striking, bold colours such as red, bordeaux, baby-blue, white or black provide a visual highlight in your home, where you can best enjoy your independence. At home where everything is a reflection of your personality. You love your freedom. You are passionate about new impressions and experiences. Your curiosity and thirst for knowledge arouse your desire to explore the whole world. Your life is dynamic, you experience a lot and you see the world in all its colours.
Your life is characterised by vision. You know what you want and what you don't want. You have high expectations for yourself and your standard of living. You love perfection. You love charm. Simple and elegant lines without unnecessary gimmicks. You love minimalism. You see it as the key to true aesthetics. Everything has its place. And your taste is decisive.
You collect pieces of the past and love vintage. Everything has its own story to tell. You never feel alone. You like new ideas with old ideals. Simply romantic. Select things for special wishes. For you only the best is good enough. You love comfort. You know how to pamper yourself best and treat yourself to nice things. You live your life and let others live theirs.
IonAir-System

The high-quality technology enables the natural process of ionisation to keep food fresh for longer. The negative ions generated in the refrigerator continuously provide fresh and well-oxygenated air, imitating a natural micro-climate.

DynamicCooling-System

The DynamicCooling system provides even temperature in the whole refrigerator. DynamicCooling contributes to reducing energy consumption.

FreshZone

As fresh as nature. The drawer with the lowest temperature in the refrigerator is ideal for storing meat, fish, fruit and vegetables. Food stored in the drawer retains freshness, flavour, colour and taste for much longer. Depending on the temperature setting, the temperature is around 2°C lower than in the rest of the refrigerator.

CrispZone vegetable tray with humidity control

Fresh fruit and vegetables spoil faster than other food. In this spacious vegetable tray with 36 litres of capacity, fruit and vegetables not only stay fresh, you can even regulate the humidity. Humidity can be easily set using the humidity control. Food stays fresh and crisp for longer and retains its vitamins.

SimpleSlide shelves

For bottles large and small. Very practical for flexibly moving the position of the shelves up or down in the refrigerator door.

PullOut glass shelves

Always at hand: a particularly practical mechanism for conveniently pulling out the glass shelves.

LedLight

Energy-saving LED strips provide optimum lighting in the refrigerator compartment as well as a much longer service life.

Chrome bottle rack

The chrome bottle rack in the appealing design stores bottles and cans securely, providing additional storage space.

FrostLess-System

The FrostLess system significantly reduces ice formation in the freezer compartment, making manual defrosting necessary only rarely. The FrostLess system also helps reduce energy consumption.


(only OT 33010 / OT 324)

AdaptTech-System

The smart system provides the optimum temperature in the refrigerator at all times, no matter how often the door is opened. The sensor-controlled AdaptTech system continuously monitors and analyses usage patterns. The system detects when the refrigerator door is opened and reduces the temperature by one or two degrees Celsius to maintain a constant temperature and keep food fresh and nutritious.


(only OT 33010 / OT 324 and OTN 32010 / OTN 324)

FastFreeze

This practical function quickly freezes food.


(only OT 33010 / OT 324)

XL-SpaceBox

An extra-large drawer in the freezer compartment that can easily store even bulky food.


(only OT 33010 / OT 324 and OTN 32010 / OTN 324)

NoFrost Plus

No defrosting or drying out. The NoFrost Plus function prevents ice from forming to keep energy consumption low and maintains an ideal micro-climate in the refrigerator compartment for fresh food. The circulating ionised air stops food from drying out and helps retain minerals and vitamins.


(only OTN 32010 / OTN 324)

QuickCooling

A constant temperature in the refrigerator is extremely important. When the refrigerator is filled up with lots of fresh food, the function reduces the temperature by 3°C lower than normal, before automatically returning to normal after six hours.

LED-Display

The temperature of the combined refrigerator-freezer is controlled using an LED display.


(only OTN 32010 / OTN 324)

MultiFlow360°

The modern MultiFlow360° air circulation system distributes the ionised air via 14 air ducts and results in even temperature throughout the entire refrigerator compartment.


(only OTN 32010 / OTN 324)

ZeroZone drawer

Like freshly caught. This drawer stores food at a temperature of around 0°C and is ideal for storing fresh or marinated meat, fish and seafood. Sensitive food stays fresh, juicy and nutritious for longer.


(only OTN 32010 / OTN 324)

XtremeFreeze drawer

Lightning-fast freezing at extremely low temperatures. Sudden freezing retains the nutrients and flavours of your food.


(only OTN 32010 / OTN 324)
Here you will find our Oldtimer models