Ms Gloor, how can we promote sustainability in the kitchen?
Various factors should be kept in mind. After all, it is not only the appliances that are relevant. The kitchen furnishings are also important when it comes to modern sustainability. Kitchen furniture should be manufactured in an environmentally compatible manner using appropriate materials. And of course, kitchen appliances should be energy-efficient. Technical progress in recent years has enabled many appliances to become more efficient and environmentally compatible. But using these appliances correctly also plays a key role.
Is this true for all home appliances? Let us consider the combined refrigerator and freezer, for example, which is particularly popular in summer.
In the case of combined refrigerators and freezers, it is important to avoid the formation of ice as far as possible. This is because if the appliance ices up, more energy has to be used to keep food at the right temperature. If the appliance includes an automatic function for defrosting this ice layer, this already represents a big step towards sustainability.
How energy-efficient are modern refrigerators today?
Most modern refrigerators have different compartments and zones that provide the right conditions for different types of food. For example, fruit and vegetables require completely different temperatures and humidity conditions than meat. Some manufacturers offer appliances with humidity control. This makes optimal storage even easier. There are also models with special temperature sensors that continuously monitor and quickly re-establish optimal conditions. All these features help to ensure food can be kept for much longer. The great thing about this is that food and resource waste is reduced.
Do you have any other tips for saving energy with refrigerators?
Choosing the right location for the refrigerator is undoubtedly a major factor. It should not be exposed to the sun or other sources of heat. Moreover, the refrigerator needs to be filled correctly (hyperlink goes here) and the door should never be left open. Having the seals regularly checked by SIBIR service technicians is also important and saves energy and money.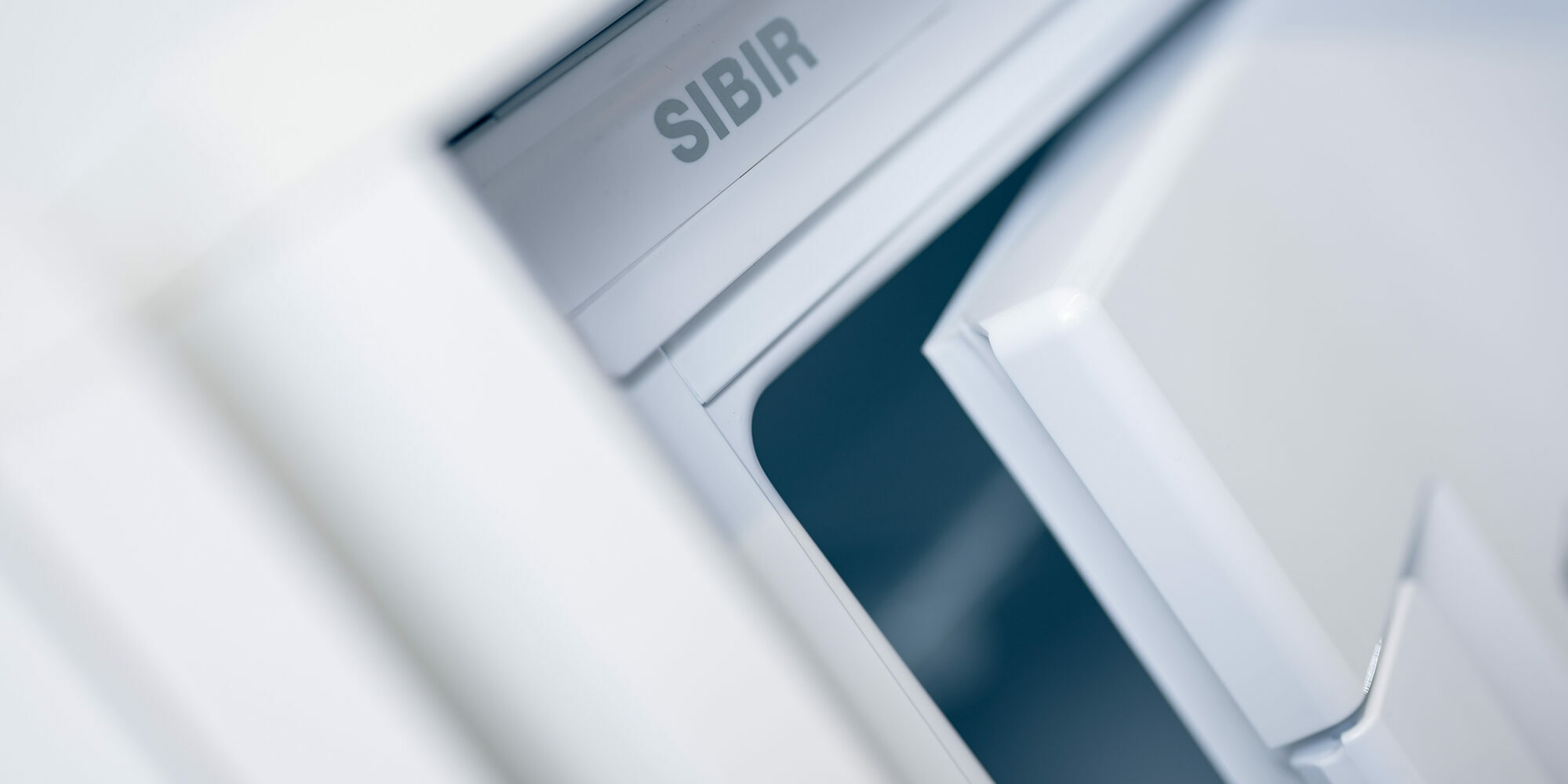 How can I find out the energy efficiency of my home appliance?
The federal energy label lists all parameters such as volume, noise level and energy consumption, resulting in a product classification from A to G. Here, A is the most energy-efficient class. Once again, sustainability begins with product design. Energy-efficient compressors and high-quality insulation materials are also used nowadays.
And how can dishwashers be used in a way that saves energy?
Besides the energy class, the federal energy label also indicates the water consumption, the number of table settings and the noise emissions. In the case of modern branded dishwashers, sustainability is already taken into account during appliance development. Crucially, the appliance should use as little water as possible and distribute the water as effectively as possible. What's more, good appliances today feature sophisticated drying systems and high-performance pumps. And while we are on the topic of environmental protection: recycled materials are used in the production of branded appliances. This is the only way to reduce CO2 emissions.
Sustainable homekeeping also always involves considering ways to save energy and water. Do you have any other tips?
I do indeed. In the case of ovens, it is important to open the door as briefly as possible to avoid the unnecessary loss of heat. The appliance can also be switched off a few minutes before the end of cooking. This is a great way to save energy.
How about washing and drying laundry?
Generally, the appliances today are very smart and can do quite a lot. These functionalities help the environment and use as little water and energy as possible. It is very important to load the washing machine with the right amount of laundry. Overloading (creates creasing) as well as washing with half a load should be avoided. Consuming unnecessary amounts of water and electricity is no longer appropriate nowadays. But using the right amount of laundry detergent can also protect the environment.
Without question, the energy efficiency of an appliance plays a key role. Older models typically consume far more electricity than new, energy-efficient appliances. Nonetheless, as consumers we should still act in an environmentally friendly way. This combination can absolutely have a positive effect on the environment. And if you have any questions, you can get in touch with the SIBIRGroup. The service technicians are well informed and can provide advice.
Do you have any questions? Please don't hesitate to contact us.